United in joyful celebration: Handog Pasasalamat & Vigil 2022
By : Mika Sanchez, 8-3, Zurina Viloria, 8-4, Clyde Bea, 12-3, Nicolle Francisco, 12-3
June 5, 2023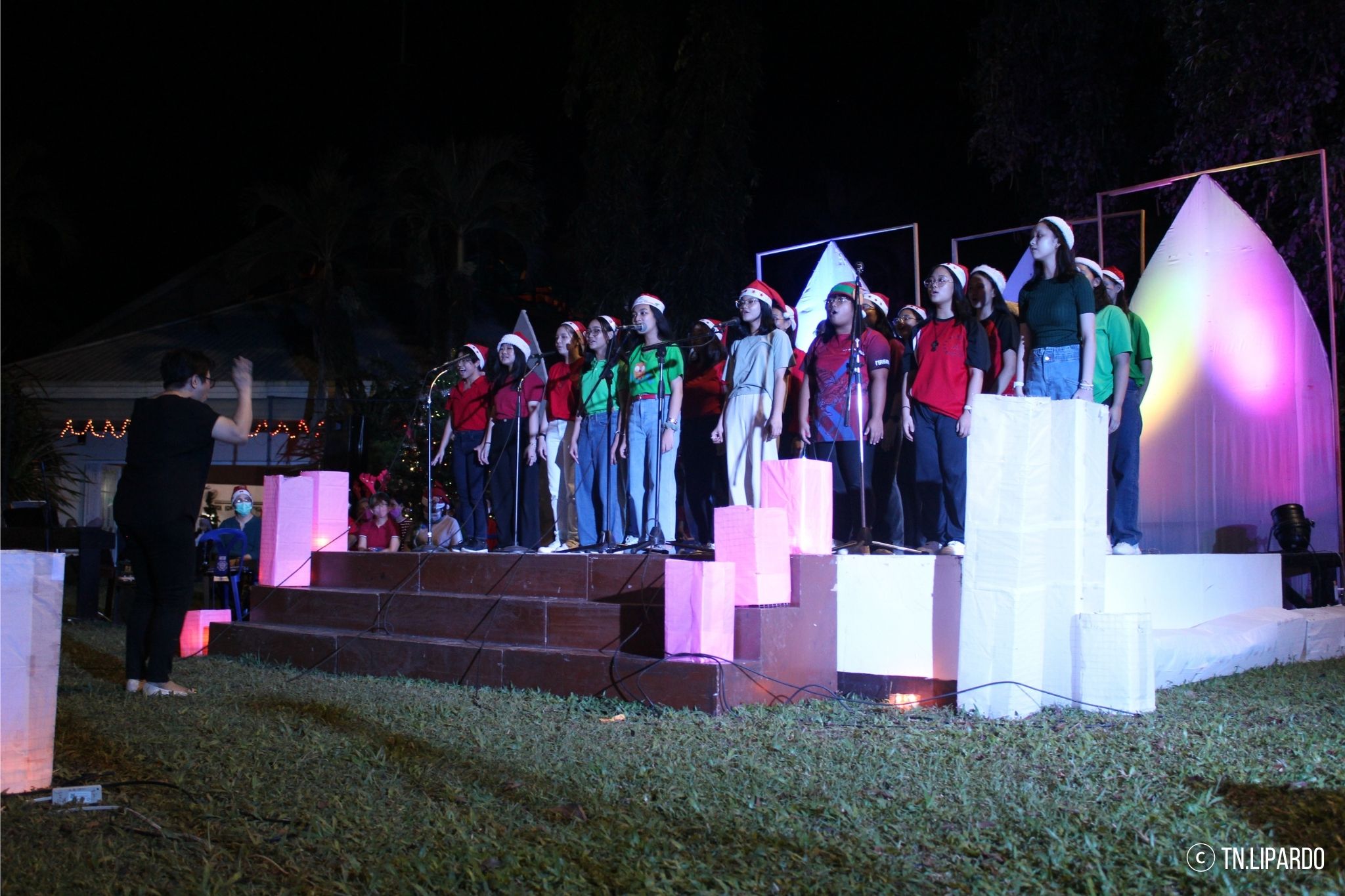 It's Christmastime in the city, and for the students of Assumption Antipolo, that means one thing — the celebration of Handog Pasasalamat and the Vigil. In line with the school's core values, AA students have celebrated Christmas in this way for many years, and although the school continued to host these traditions online during the extent of the pandemic, their long-awaited return onsite certainly helped raise good cheer.

Handog Pasasalamat has always been an event that placed importance on community and unity, and from December 12 to 14, 2022, each member of the school community worked hard to execute the best possible interactions with AA's beneficiaries from many different sectors of Rizal. Student committees handled various areas of preparation, such as entertainment, health and safety, prayer, and documentation while their teachers supervised the planning of activities. Collaborating on their programs, students sacrificed their time and talent with the intent of giving their counterparts — whether these were sitio nanays, the farmers of Teresa, or public school students their age — a wonderful Christmas.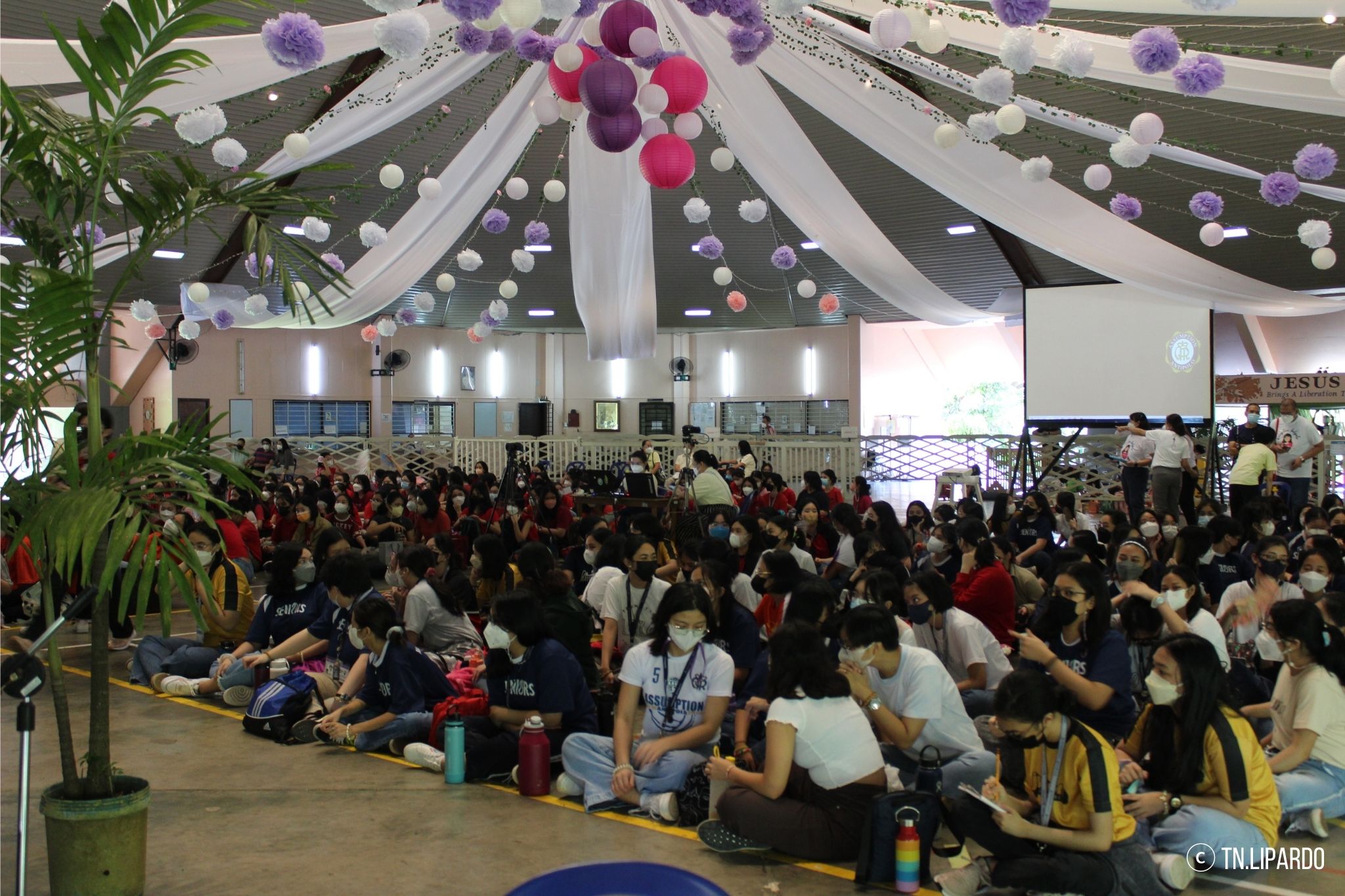 The culmination of all this planning fell on different days. For elementary and junior high school, Handog Pasasalamat was held on December 16, whereas for senior high school students, it was a day earlier, falling on December 15. Students brought snacks and drinks to share, and throughout the morning, they engaged their counterparts in games and bonding activities to learn more about their lives. Finally, at the end of the event, each student group gave their assigned partner a care package of Noche Buena supplies as a parting gift.

These events provided the opportunity to give back to the community. It also allowed others to share in the joy of the holidays and contributed to the formation of the students as women of faith and action.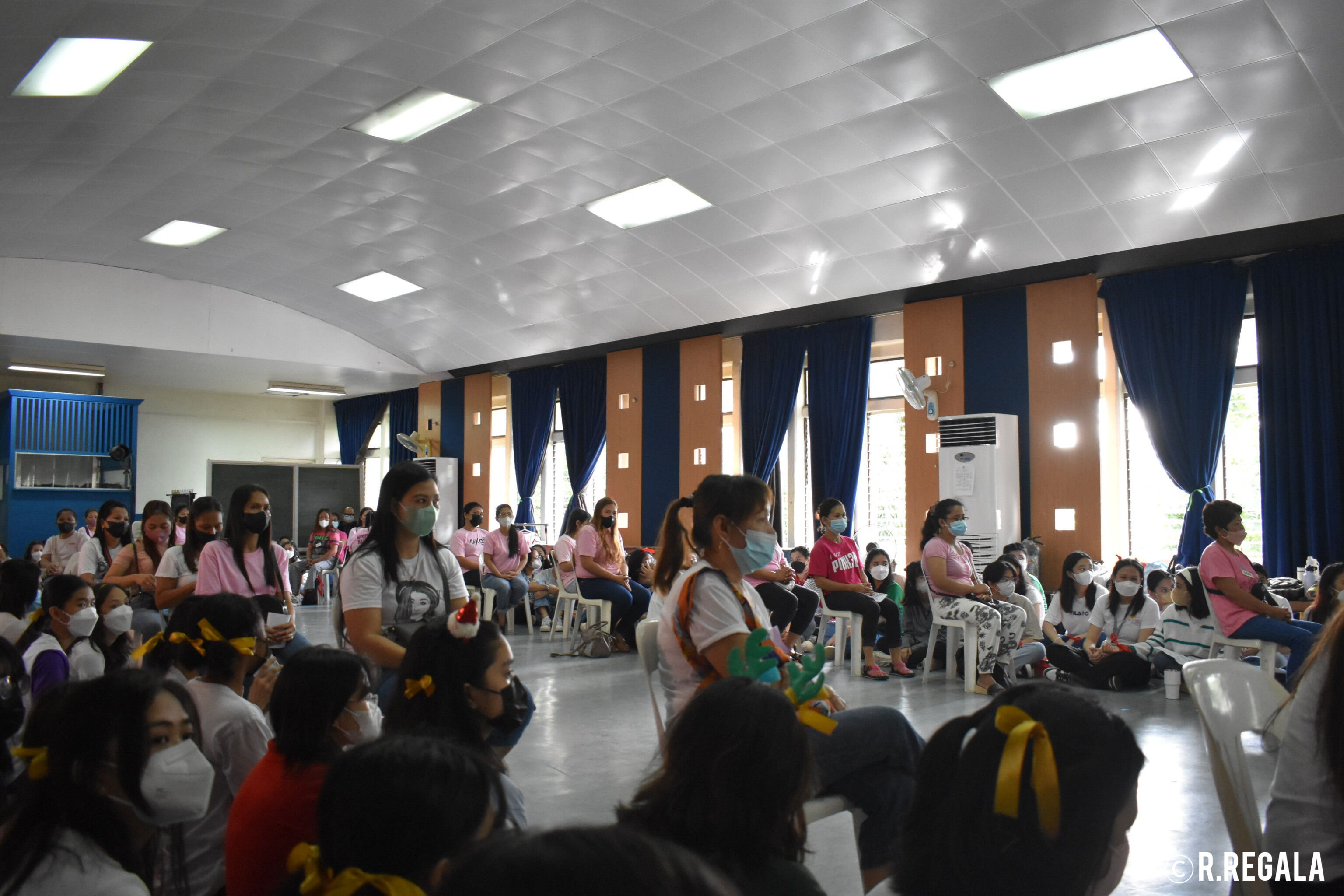 Another way AA students celebrate Christmas was by returning to the root of the holiday. Beyond all the gifts and decorations, Christmas is, at its core, a time for God. In honor of the coming of Christ, the 16th of December was dedicated to the Vigil, where from morning to night, high school students participated in various activities with the theme "Flex Our Hope!". The event was made possible by the efforts of communities both inside and outside the school, but especially by the AA faculty, staff, and members of the Youth Ministry of Assumption Antipolo (YMAA).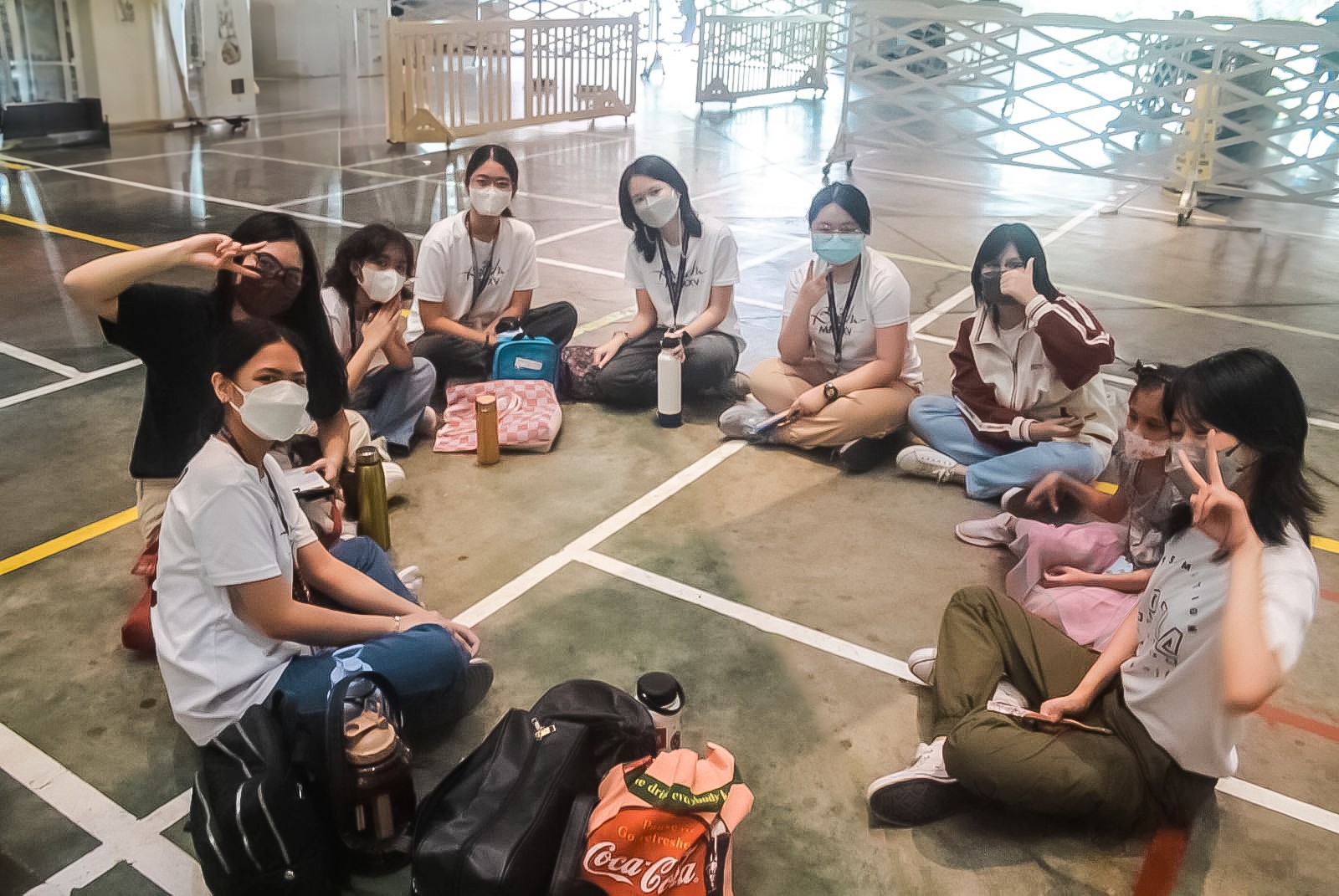 As a day marked by holiness, the Vigil began in a silent and prayerful manner. The students quietly spent the morning doing Sacred Space activities facilitated by the officers, worship leaders, and YMAA members. Simultaneously, they had opportunities to receive the Sacrament of Reconciliation through invited priests. These activities, most done in solitude, were designed for prayer and reflection. The atmosphere allowed the students to reflect on things they may have struggled to find time for due to the hustle and bustle of school life. In this way, the Sacred Spaces activities proved to be blessings in disguise as they provided mental rest and spiritual nourishment.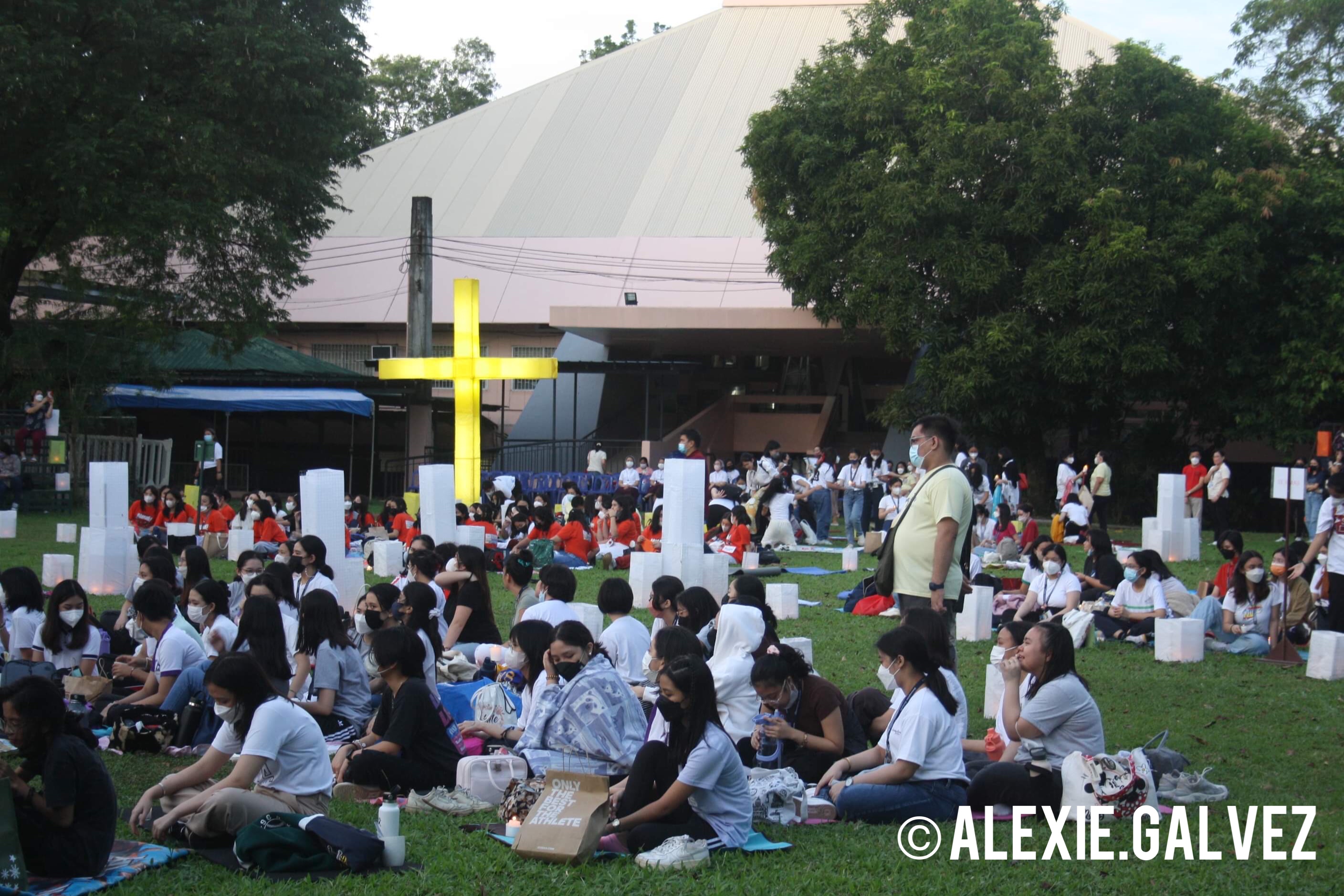 After an equally noiseless and meditative lunch — a Monk's Meal dedicated to the teachers and students of Ukraine — the Grades 9 to 12 students made their way to the Multi-Purpose Building for the Youth Gathering, a highly anticipated event that has been an AA tradition for decades. Ms. Jessica Gusayko and Ms. Fern Garcia, beloved for their witty and eccentric personalities, hosted this year's Youth Gathering, which featured the AA Faculty Band and guest speakers: Ms. Iva Asutilla, Dr. Keisha Mangalili, Sir Ace Lazan, Sir Darwin Murillo, Ms. Nicole Madrilejos, Ms. Lyrah Garde, and Sr. Forthelli Cagalawan. Each speaker had the opportunity to share their stories of hope during the Hope Talks segments of the event, emphasizing how God stuck by them through times of adversity in various ways.

Ms. Iva Asutilla and Dr. Keisha Mangalili, the first two speakers, are Old Girls from Batch 2012 who are also long-time friends. After ten years, the two have matured into magnificent women of faith and action, giving their all in their careers. However, their road to happiness and success posed some challenges.

Ms. Iva was devastated when she was rejected from her dream colleges, the University of the Philippines and the University of Santo Tomas, leaving her with only two options: Ateneo de Manila University (ADMU) and De La Salle University (DLSU). Torn between the two, she had to put them into perspective: should she choose ADMU, a school that was located closer to her, or DLSU, which granted her a scholarship? She described it as a choice between what she loves, "mahal ko," and what loves her, "mahal ako." In the end, she decided on DLSU, and despite the setbacks, she couldn't imagine attending any other university. Ms. Iva discovered God's calling by having the courage to accept her reality, and in doing so, she found the hope she needed to keep going. Even if things did not go as planned, God knew she was destined for a better place, and now, after all the bumps in the road, she is enjoying her role in the Lasallian Mission.

Her friend, Dr. Keisha, also experienced her fair share of hopelessness. After being scouted to work alongside Former Vice President Leni Robredo, she found herself in her element. However, the results of the 2022 Philippine presidential elections led to the spiraling of her mental health. Hit with a terrible wave of depression, she felt anguished, and coupled with the poor state of the country's healthcare system, she was readily considering her opportunities to work abroad; after all, the benefits seemed to outweigh the disadvantages. However, despite the trajectory of her life, she felt the need to stay. God spoke to her through the Angat Buhay Foundation, a nongovernmental organization that was founded after Leni Robredo's term for the Philippines' economic recovery. Through the NGO, she found a spark of hope, a spark that gave her the chance to continue serving her country using her knowledge and skills as a doctor. Ms. Iva's and Dr. Keisha's stories demonstrate how God manifests himself in the smallest details of life. When reality appears to be plagued with pain and hopelessness, God has a way of reminding us that He is with us and that, if we put forth the necessary effort, we will eventually receive the peace and happiness we deserve.

The next two speakers were familiar to the AAHS community: Sir Ace Lazan, a former AA teacher, and Sir Darwin Murillo, the current Class Adviser of Grade 9. They are revered for both their comedic dispositions and their contributions to academia. But despite being such warm characters with clever and witty jokes, they are also familiar with despair and dejection.

Sir Ace Lazan reopened the discussion by revealing that he had no intention of becoming a teacher. During Hope Talks, he revealed that he wanted to work in the entertainment industry, shocking everyone with pictures of him with famous figures, such as Filipino comedian, actor, and TV show host Vice Ganda. Sir Ace actively pursued a career in show business after setting his sights on it, but with the desire to involve himself in a ministry, it proved to be difficult. The industry required hard work and dedication, which left him little time to attend service. So, despite his passion for entertainment, he decided to resign from the job. It was a difficult decision. After all, even if his love for the ministry won out, it was still hard to say goodbye to a career he adored. His decision left him jobless for a time until a friend suggested he join an organization where he could teach children without any prior experience. Deciding to trust his friend, and by extension God, he went into education, which eventually led him to Assumption Antipolo. His life was full of big decisions and uncertainty, but it was through these experiences that he discovered his passion for teaching. God gave it all to him, and in the face of doubt and fear, Sir Ace said, "Isa lang ang kakapitan: si Lord."

His fellow mentor, Sir Darwin Murillo, highlighted his story of hope through the characterization of the essence of hope. Sir Darwin quotes St. Augustine of Hippo and the daughters of hope, saying "Hope has two beautiful daughters; their names are Anger and Courage. Anger at the way things are, and Courage to see that they do not remain as they are." Anger and courage in the correct proportions are needed for collective action. These are qualities rather than emotions, according to St. Augustine. They can be disastrous if used improperly or in the wrong situation; for example, anger can turn to bitterness and boldness can turn into recklessness.

Hope, above all, exhorts us to swap a blame-based ethic for one based on compassion and shared responsibility.us to swap out a blame-based ethic for one based on compassion and shared responsibility. These could lead us to true bliss. We, young people, might consider how important it is to go past our anger and keep a positive view on life, setting an example for our peers by establishing a firm faith through Sir Darwin's message of hope.

Following Sir Ace and Sir Darwin were Associate Missionaries of the Assumption (AMA) volunteers Ms. Lyrah Garde and Ms. Nicole Madrilejos who come from different backgrounds but work toward the same objectives via selfless service. Both were able to describe how they came to be committed volunteers and their journeys. They were both able to realize their aspirations: Ms. Lyrah passed the social worker licensure exam, and the two of them entered their chosen field through prayer and maintaining optimism in their lives. Being a social worker requires being adaptable and open to connecting with various groups, working in various settings, and most importantly, attending to the needs of and listening to the stories of others. It was not a linear nor smooth journey for both Ms. Nicole and Ms. Lyrah, but as they remained determined and willing to go through the challenges for their passion to serve, God answered their prayers. Even though they felt abandoned, God was there for them, and their spirit of volunteerism helped them grow closer to Him by assisting others in doing the same. Young people, particularly the students of Assumption Antipolo who are motivated by the institution's aim to provide transformative education, should draw inspiration from Ms. Nicole and Ms. Lyrah as they strive to inculcate ideals that will help them become women of faith and action.

For the final speaker, The Religious of the Assumption's Sr. Forthelli Cagalawan closed the collection of hopeful tales with one that undoubtedly left the high school students reflecting on how important it is to regard life as a gift. She talked openly about the difficulties she faced after receiving numerous diagnoses. She eventually had to fight these illnesses and obtained the necessary treatments and operations to survive. Sr. Forthelli also shared about the trauma caused by these procedures and attempts, but she nevertheless continues to give thanks and dedicate her entire life to God. We are commanded to live like her even when faced with difficulties and obstacles in life.

After the inspiring talks, students were given a brief break in their classrooms to prepare for the Vigil proper. As with every Vigil, the students arrived at the soccer field in silence, spread out their mats, and prepared themselves for prayer after being instructed to bring their candles to be lit.

The Simbang Gabi started around six o'clock. The tale of St. John the Baptist and his reverence for sharing the Good News through his deeds were highlighted in the Gospel and in his homily, Fr. Joseph emphasizes the saint's adage that "He must increase, I must decrease," creating the impression that Christ, rather than our arrogance and skills, should grow in our lives rather than our arrogance and skills. This calling and challenge focused on living for the truth and to witness for the truth, as demonstrated by the word "pagpapatotoo," which means testimony. This word instructs us to live genuinely. This allowed the students to consider the significance of this calling throughout the Christmas season.

The AA Christmas Concert, a fundraiser for the European mission of the Religious of the Assumption community, put a happy and cheery cap on the evening. Additionally, anyone from outside the Assumption Antipolo community was welcome to attend this event. The Ukrainian teachers and kids were the chosen beneficiaries of the event. As everyone was urged to share their blessings and gratitude for a greater cause, this emphasized the general theme of "Flex our Hope." Every individual in the audience was amazed and riveted by several performances, including those by the AA ballerinas, the Religious of the Assumption Sisters, Komusikasyon, SalinKaMusika, and the High School Dance Club with the Faculty and Staff. Each performance was met with applause and delight from the audience, who joined in with the performers in singing along to their favorite Christmas carols. The School Director, Ms. Grace Magtaas, gave a message before the Administrative Team and Subject Team Leaders performed a Christmas carol to close the Christmas Concert.

Christmas is a time when we celebrate the gift of Christ. Each year, we look forward to the gifts, family reunions, and games, but AA makes it even more memorable for us. Activities like the Vigil and Handog Pasasalamat are all about thanksgiving and new beginnings. The Assumption Antipolo community shapes its students to become aware of the struggles of people around them, and they take a step further in encouraging them to take action and help those people. They are given a chance to give to others, whether that is through material essentials or through memories that will last a lifetime.